H5-RT: Distributed architecture for real-time monitoring
Multicast flows, unlike unicast or point to point flows, allow a small group of servers to send data to a large base of subscribers in real time with a proven efficiency for multiple emerging applications: IPTV, financial data distribution, software updates distribution, Visio conferencing, telemedicine, e-learning, etc.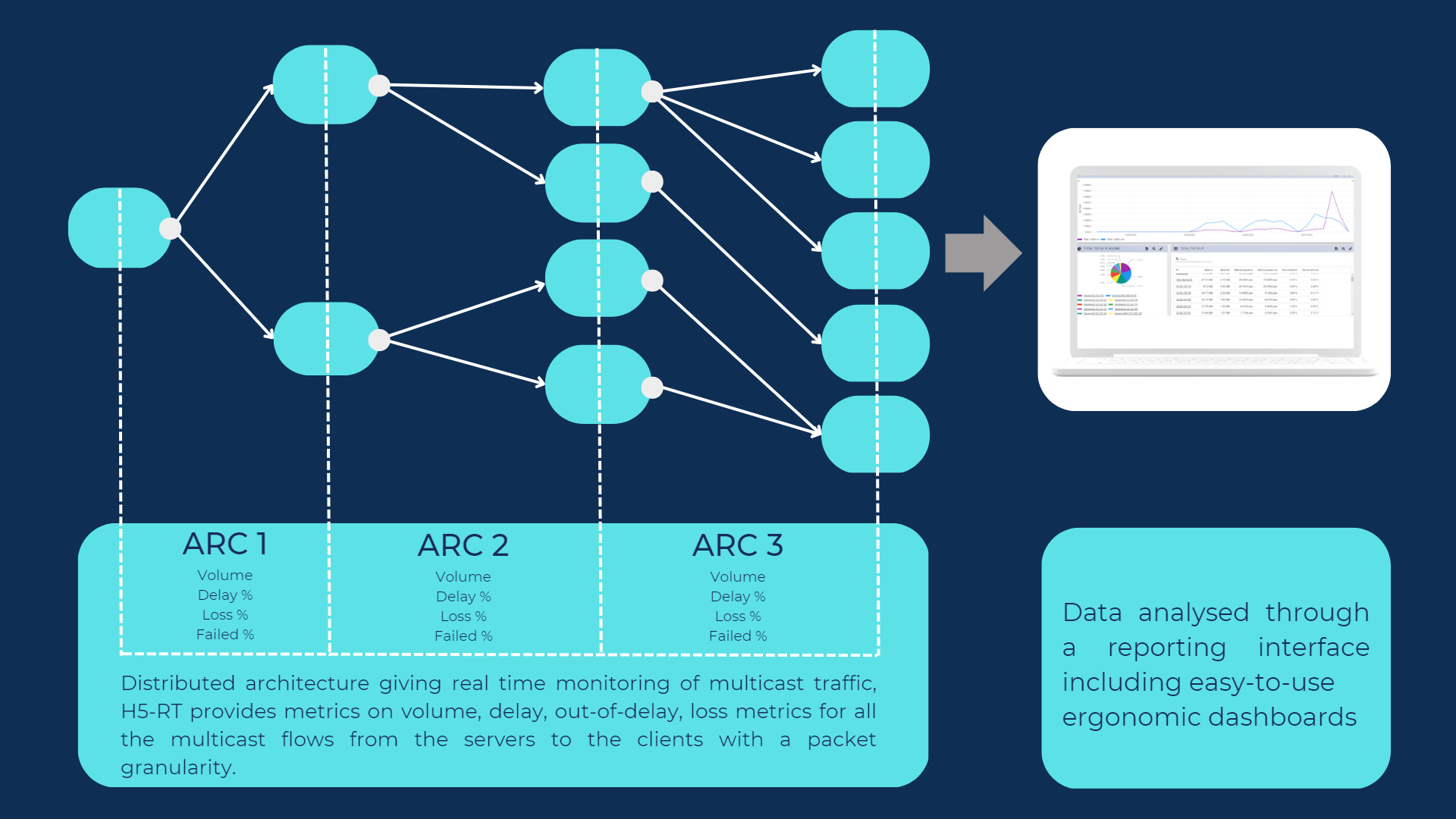 The need of monitoring these ever-emerging business applications, for capacity planning, bandwidth optimization or quality insurance is only partially met by traditional application monitoring solutions.
The multicast flows are indeed specific in nature, relying on connection less UDP packets transmission and duplication.
Taking this into account H5 Network R&D teams designed H5-RT. A distributed monitoring architecture providing multicast flow visibility on large scale networks. 
H5-RT: Efficient measurement solution
H5-RT is a strong and efficient measurement solution under any circunstances:
Measurement on each segments of the connection chain

End-to-end packets delivery

Measurement of network's status unavailability

Locate causes of failure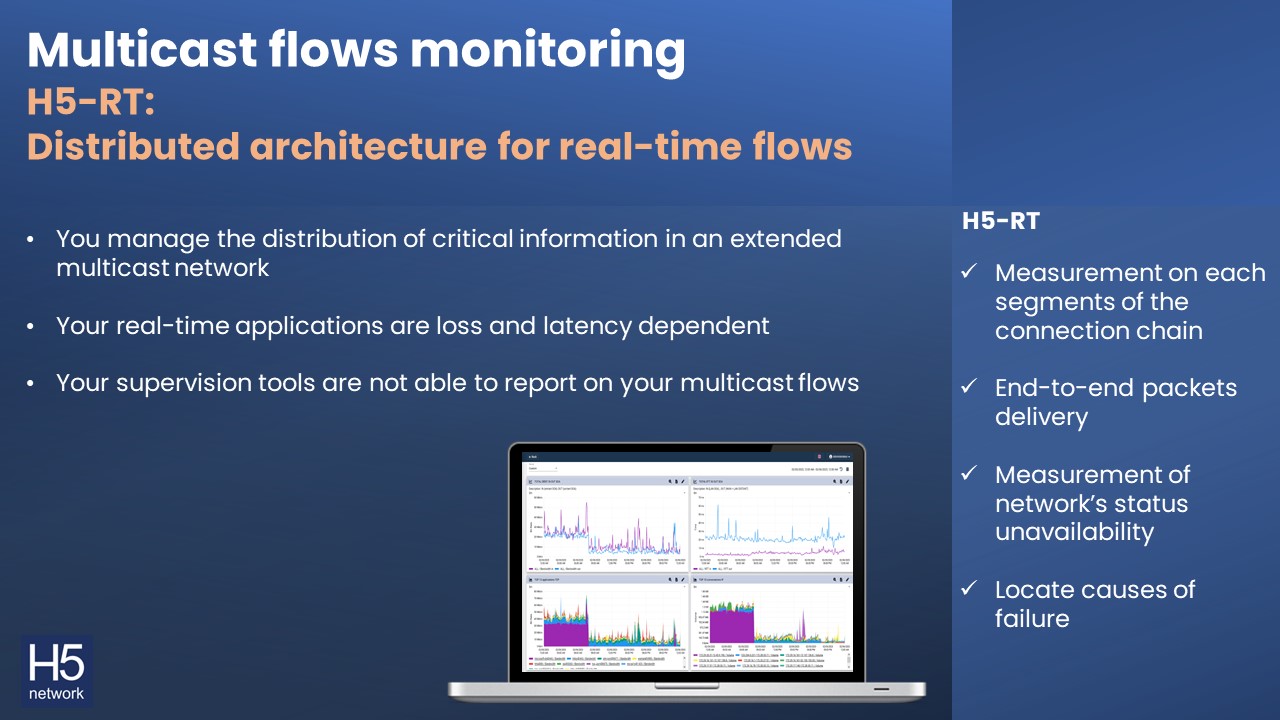 H5-RT: Easy to deploy in a large scale satellite program
H5-RT is a multicast flows monitoring easy to deploy in a satellite program. It provides:
Accurate real-time flow analysis
Proven solution in large scale satellite deployment
Packet level granularity, latency and delivery status
Historical statistics data per link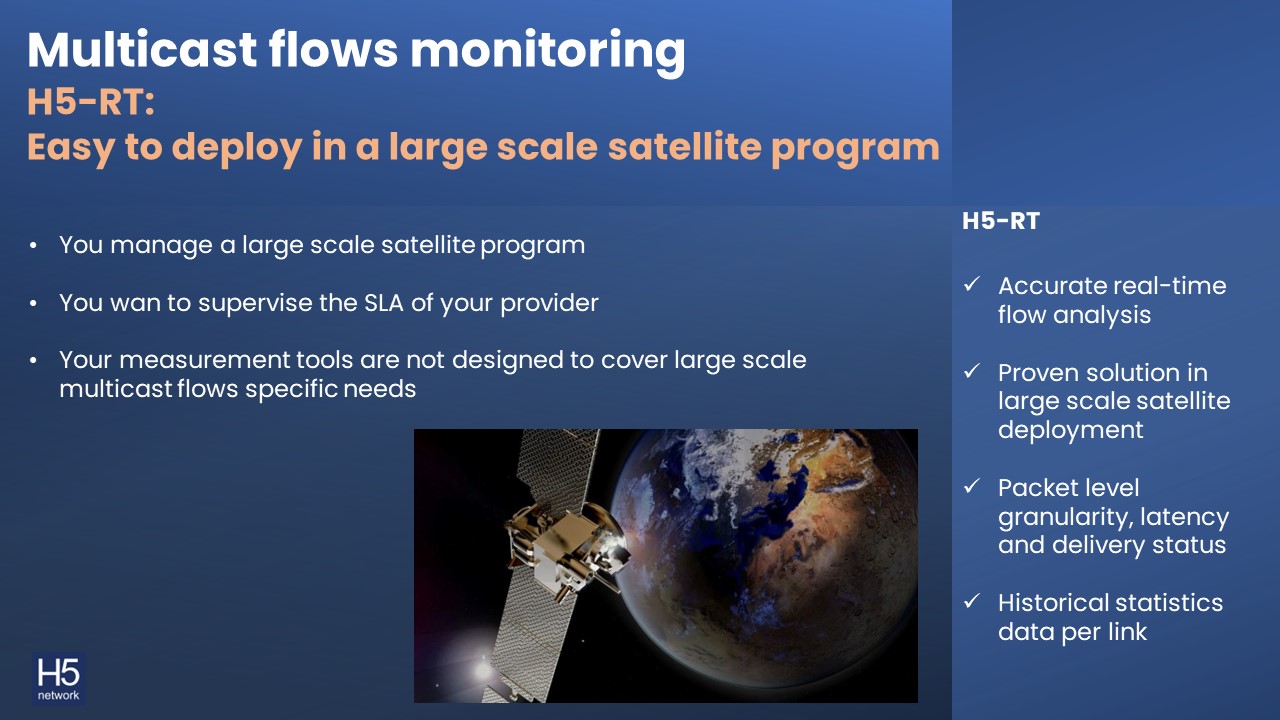 H5-RT is a distributed architecture for real time monitoring of multicast traffic, providing metrics on volume, delay, out-of-delay, loss metrics for all the multicast flows from the servers to the clients with a packet granularity.
H5-RT consists in three separate data layers operating flawlessly:
Data Collection
H5-RT AGENT responsible of multicast monitoring data collection extracted from multicast traffic copy provided by one or more switch mirroring ports or network taps. H5-RT AGENT deployment does not require any modification or interruption of the information system.
Data Aggregation
H5-RT AGGREGATOR is in charge of data aggregation and multicast packet delay processing. It dynamically connects H5-RT AGENT, polling, aggregating processing multicast performance data.
Reporting
H5-CPR provides dashboard and reporting interface from H5-RT AGGREGATOR data.