H5 has developed a solution that provides to the network administrators a business visibility via simple intuitive and complete views. H5 relies on a proven and standardized model which is easy to implement and with a low TCO (total cost of ownership).
NetFlow & sFlow
The H5-Flow unit main feature is the real-time collection of the NetFlow and/or sFlow records of the network. Many types of active devices have the capacity to extract specific information from the application network flow such as the packets number and bytes transmitted by the server, client and application. It is also possible to configure the network devices to format and send this information to the H5-Flow appliance in accordance with two industry standards : 
>  NetFlow,
>  sFlow.
Simple, intuitive and complete
The H5-Flow appliance collects these records, stores and aggregates them in a database on the fly. The information network flow can be viewed and used through performance indicators at all times by the network teams via :
>  Dashboards,
>  Web reports,
>  Alarms generation when the threshold is overrun.


All-in-one solution 
Based on an all-in-one upgradable architecture, H5-Flow is produced on same standard as H5-Appliance: it is a fully autonomous plug and play system.
H5-Flow range
The range of H5-Flow appliances allows network administrators to maintain 100% network visibility while the monitored traffic is constantly increasing. The H5 software works identically on all H5-Appliances. The model to be selected depends of the number of IP switching flows interfaces that the administrator wants to observe : from 50 to 200 interfaces and max 50 000 simultaneous flows for the H5-Flow-Ent (Enterprise) and unlimited interfaces and max 500 000 simultaneous flows for the H5-Flow-DC (Datacenter).
H5-Flow-Ent, 50 to 200 interfaces & max 50 000 simultaneous flows, for SMBs and Enterprises.
H5-Flow-DC, unlimited interfaces & max 500 000 simultaneous flows, for Datacenters and Core networks.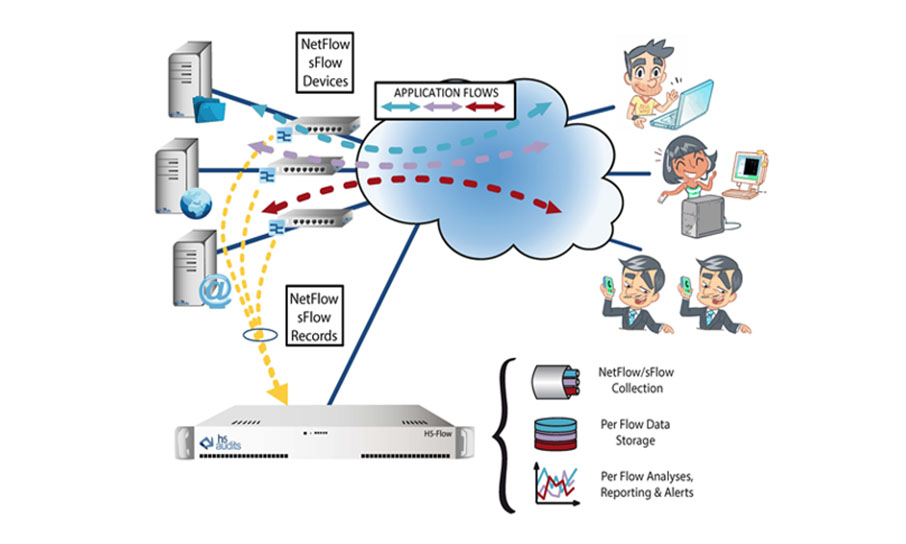 Genuine multi-services & all-in one solution, H5-Appliance allows all IT teams to access data's:
> IT Management
> IT Operations
> Support 
> Business (Marketing, Finances, RH, & +)
H5-DOCK
H5-Dock Java client is the user interface designed for network engineers/IT Operations. Directly downloaded from the appliance, H5-dock remotely connects to its database and dynamically displays all metrics in relation to all network objects that are detected or configured on your environment. Tables and graphs choice allows deep exploration, detailed and complete analysis of these data's.
Multiple views
H5-Dock displays multiple views exploring network flows coming across for numerous geographical areas and various time intervals. Powerful data analysis' tools such as the time zooming and deep-drilling enable to diagnose isolated traffic abnormal behaviors among thousands of network conversations.
Captures
From H5-Dock interface, users run on-demand filtered captures, configure threshold alerts and dashboards reports meeting their specific needs.
Dashboards
Business dashboards enable the helpdesk and engineers to access with one click predefined and preselected statistics screen, displaying all the data's that is essential to highlight and clarify a particular business context. 
H5 system is delivered with a set of factory-configured business dashboards.  Available widgets allow to design your own dashboards to meet your context, function and needs. H5 Professional Services can of course assist and support you in customized reports and dashboards configuration and creation.
Examples :
>  VoIP performance for the site Y (RTP flows, MOS, jitter, etc.),
>  WAN performance (load, who does what, latency measures, errors rate),
>  Traffic matrix of the Datacenter entry,
>  TOP 5 sites of worst WAN performances, and more
H5-PERFORMANCE REPORTER
H5 Web reporting portal allows users (managers, engineers, business, helpdesk, and more) to access at all times all available reports. In addition, SNMP alerts or emails grant the helpdesk/Support to receive an instantaneous and immediate notification when incident or abnormal situation occurs.
Simple, comprehensive and intuitive
H5-Performance Reporter is the H5-solutions' web interface: it provides simple, comprehensive and intuitive Reporting with an ergonomic view and instantaneous dashboards. 
Common to all actors
H5-Performance Reporter interface allows all business audiences a tailored tool adapted to their needs. Additionally of facilitating communication within the company, H5-Performance Reporter enables you with a global and high level IT views, to drive deep analysis on incidents root-cause and promptly direct actions requests towards relevant teams: you evolve into a pro-active attitude and act before situation becomes critical.
Complete view of your network and of your applications
H5-Performance Reporter provides an instantaneous and complete view of your whole network and your applications. Maintaining IT performance and availability is essential for your company operations. A global visibility is a must for a good management.
Built-in and customized reports
This interface provides built-in reports and customized reports in which you organize your own menu of folders, subfolders or reports.
Ergonomic and express
Its ergonomics and its easy handling allow everyone (in respect of their profile configuration and level authorization granted by the solution administrator) to create, modify and analyze reports.